Private Tour – Nature Wildlife Safari Float Tour from La Fortuna-Arenal
From: $135.00
Enjoy the sights and sounds of Costa Rica Wildlife on a peaceful float trip down Penas Blancas river. Discover the tranquility of the rainforest and the sound of the tropical setting. This tour requires a minimum of 2 people.
Join us on  this  Private Tour – Nature Wildlife Safari Float Tour from La Fortuna-Arenal.  Having your  own  transportation and  private  tour guide  will give you the flexibility to  tailor  your  travel  to  what you want to see
Enjoy the sights and sounds of Costa Rica  wildlife  on   your privatly  guided   safari like float  trip  down to Peñas Blancas  River. Our peace allows you to enjoy the tranquility of Costa Rica rainforest soaking in all the sights and sounds of the tropical setting. Be sure to keep an  eye out for a variety of monkeys, caimans, iguanas,  Jesus Christ lizards (they actually walk on water!)  and a wide assortment of colorful bird  species.
This wildlife  river  float  trip  is great for nature lovers of all ages – families will  love this tour!  A short  25 minutes drive from  Fortuna, this peaceful, slow-flow section of the Peñas Blancas River is easy and relaxing. Keep your eyes on open for a glimpse of a sloth or howler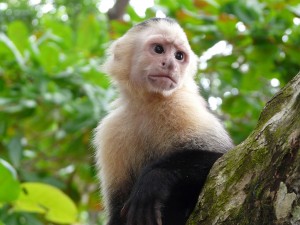 and white-faced monkeys. The river  is home to small crocodiles that  duck in the water when you cruise past. Your  naturalist  guide will share local history and knowledge of the plants and animals you encounter on the float. We will spend  around  2 hours  at  a relaxing paddle  pace  exploring  the  river  banks  for  rainforest inhabitants. After  we float  down the river we will make a stop  at  one of the river side  farms where  we will  refresh  with  a locally prepared  snack  and a cup of coffee before heading  back  to your  La Fortuna hotel.
Make sure to bring your camera and binoculars on this tour!
MAKE IT A COMBO! – This is half day tour is a great  option to combine  with  a visit  to Dona Maras  house where you will have a  sit  down  tortilla making  lesson  and  a delicious  home  cooked  Costa Rican  lunch.
What To Bring
Quick Dry  clothing
Changeable clothes
Sunscreen
Water Shoes (No Flip flops)
Repellent
During Time
Departure time 7:30 a.m – 1:30 p.m
Returns            10:30 a.m. –3:30 p.m
Tour Includes
Transportation
The best attention.
Certify bilingual Guides.
Snacks at the end.
Drinks (water, Juice, Beer)
Dry towels.